5 Internet Marketing Strategies to Help Your DC Business Earn More Leads
Today, most people use the Internet in some capacity. Whether it is to scroll through social media or conduct a search, people across the globe use the Internet every day. It is an integral part of our lives.
This constant usage pushed companies to take a more digital approach to reach more qualified leads.  
Internet marketing encompasses numerous different methods for reaching consumers. Some of these methods include:
Since Internet marketing targets people who are already searching online for products and services related to your business, it will help you reach more qualified leads. In other words, the people who visit your site will be more likely to become customers.
Keep reading more about how you can use Internet marketing to gain more leads or contact us today to find out how we can help you earn more leads online!
1. SEO gets your business in front of qualified leads
If you want to earn more web traffic and leads, people need to be able to find your website.  How can you ensure that people will find your site? SEO, of course!
SEO is the process of optimizing your website to rank higher in search results for keywords and phrases related to your business. This is done by creating a user-friendly website that provides valuable information. There are a lot of factors that go into SEO ranking, such as content and backlinks, as well as technical elements of your site like your code.
When you utilize SEO, you are targeting people who are already searching for your products and services. This generates more qualified leads for your business because you are attracting consumers who want what your business has to offer.
When you use SEO, you include keywords in strategic places on your website like your title tags, headings, and body copy. Then, when users search those keywords, your site will be optimized to appear higher in search results.
So, how do you choose keywords that will help you attract more qualified leads?
Short-tail vs. long-tail keywords
When it comes to keyword targeting, there are two options: short-tail and long-tail.
Short-tail keywords are only a word or two. They tend to be very generic or broad. Examples include "boots" or "shoe stores."
The issue with short-tail keywords is the amount of competition. When you type in shoe stores, you get results for a lot of big name companies. Since there is more competition for these short-tail keywords, it is harder for your business to rank in top results.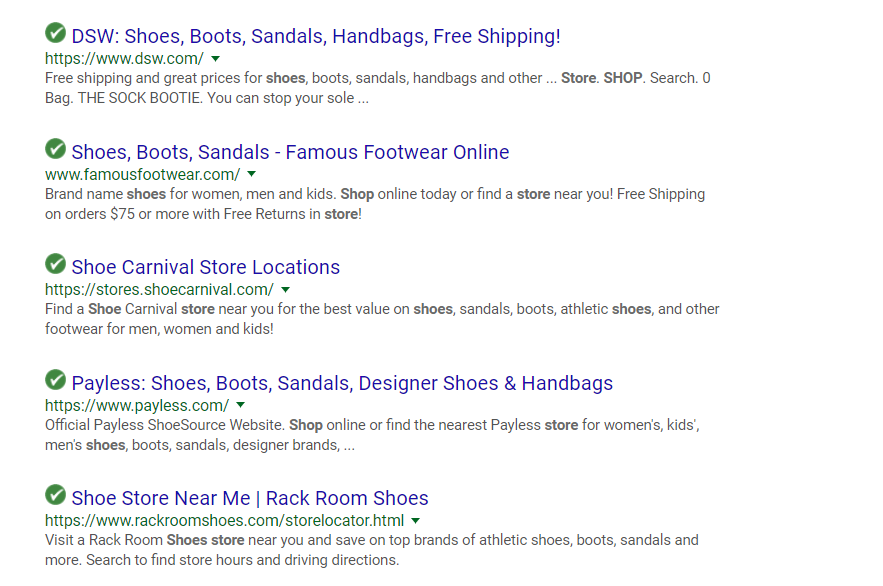 Long-tail keywords, on the other hand, relate to more specific searches. By targeting long-tail keywords, you have the ability to reach more qualified leads.
For example, if someone searches a short-tail keyword like "shoes," the query is not very specific. Are they looking for men's or women's shoes? What brand? What kind of shoe?
This searcher may be doing preliminary research, and they probably aren't ready to buy.
However, if someone searches a long-tail phrase like "women's black Nike running shoes," you know exactly what they are looking for, and the specific search indicates an intent to purchase. They know exactly what they want, and they are likely looking for a place to purchase the shoes.
SEO helps more people find your business, and by using specific keywords, you will drive more qualified traffic to your website.
2. PPC helps you target ideal customers
PPC ads are advertisements that you see at the top of search results, above organic listings.
These advertisements work on a bidding system. You select the keywords and phrases you want to trigger your PPC ads, and you set a max bid. Then, if your bids are among the highest, your ads will appear at the top of results.
Companies like using PPC because you determine the price you want to pay, and you only pay when people click your ads. You'll never have to worry about incurring extra costs.
In addition, since PPC target people who are searching online for keywords related to your business, you'll avoid wasting money trying to reach people who aren't interested in what you have to offer.
PPC advertisements are a great way to generate leads because they attract people who are interested in your business. In fact, 65% of consumers will click on a paid ad when they're ready to make a purchase.
People will only click on your advertisement if they are interested. Those who click on the advertisements are more inclined to make a purchase.
Your PPC advertisements can help you get more qualified leads that turn into conversions.
3. Gain new leads and nurture them with email marketing
Email marketing is a great way to gain potential leads.
First, you need people to subscribe to your emails. You can put email sign up bars in the headers and/or footers of your pages. If you post content on your site, you can include calls to action that encourage people to sign up for your emails.
Many retailers will create a pop-up advertisement that appears when you visit their site. It will say something like "sign up for our emails and receive 20% off your first order." This works well to obtain emails from prospective consumers.
You don't want to obtain someone's email without their permission. If you do, your emails will more than likely end up in spam, and people will have a negative image of your business.
Once you obtain email addresses, you can send out emails to prospective clients. These can be about sales, new products/services, or general email newsletters that you send on a regular basis.
When you have a list of emails, you really have a list of prospective consumers. They are already considering purchasing your products/services, so getting emails may help them convert. Your emails provide helpful information that helps to move them through the sales funnel.
4. Connect with customers on social media
Did you know that 81% of people have social media profiles? With so many people on social media, there is a great opportunity for you to connect with your target audience and earn more leads.
There are many social media platforms available at your disposal including Facebook, Twitter, Instagram, LinkedIn, and Pinterest, amongst others.
Social media enables you to build a relationship with your consumers. Your consumers can reach out to you with questions or concerns. They can comment on your posts and give feedback about your content.
If people are interested in your business, they will like your page or follow your account. You will be able to connect with people from your target market who are interested in your products or services. These people will be great leads for your business that you can easily connect with online.
Social media offers advanced targeting options. When creating ads on social media, you have the option to choose your audience, which enables you to focus on your target market. There is also an option to create a custom audience so you can be even more specific.
These advanced targeting options ensure that you are only reaching out to people in your target market, instead of wasting time trying to reach people who aren't interested in your business.
5. Bring in leads with content marketing
Content marketing is one of the best ways to reach potential leads. You can draw in leads by providing them with valuable information.
This type of marketing is about sharing your knowledge. Your content can be blogs, videos, infographics, or anything similar that provide information related to your industry, business, products, and services.
It is valuable to post content because people are constantly seeking information. Consumers aren't always looking to purchase products or services. Sometimes they just want answers to their questions.
Content is your opportunity to share your knowledge and provide answers for consumers. You can post advice, how-to blogs, DIY projects, or tips. It is all information that is valuable to your audience.
When you provide this information, consumers will see you as an authority in your field. They will remember that you provided this helpful information. When there comes a time that they need a product or service, they will turn to you.
Consumers will pick your business over your competition because you provided the helpful information. They will remember you better and feel confident that you are the best choice for their needs.
Content is great for attracting potential leads. You can use things, such as guide downloads and email sign-ups to help you capture and nurture more leads for your business.
Why Old City Interactive
Old City Interactive is a digital marketing company that provides a number of internet marketing services to help you reach more qualified leads.  
We are a results-driven Internet marketing company that helps you generate the leads you want. With our transparent pricing, you always know where your money is going. Our team is confident we will deliver results for your business within your budget.
Learn More
If you are ready to generate more leads with Internet marketing, contact us to speak with a strategist.
We're excited to help your business grow!